Be part of the European BFA training tour!
What is Battlefield Acupuncture?
This ear (auricular) acupuncture protocol was developed by Dr Richard C. Niemtzow in 2001. He is a retired Air Force colonel and was the first full-time physician acupuncturist in the Armed Forces.
He originally conceived this technique as a way to deliver pain relief through acupuncture as quickly and efficiently as possible in combat and other military situations. It is growing in popularity in both military and civilian medical settings internationally.
This unique technique uses semi-permanent ASP® needles to activate ear points in order to influence the processing of pain in the central nervous system. According to Dr Niemtzow, pain relief can be immediate and hold for a longer stimulation. It can also be used in case of anxiety and insomnia.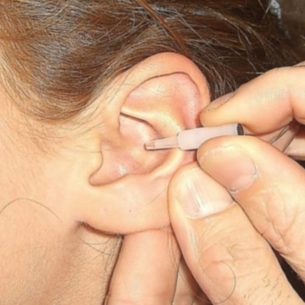 A solution to reduce opioid consumption
BFA was recognized in 2019 as a solution to fight the opioid crisis by the Association of American Medical Colleges and presented in the documentary Escape Fire: The Fight to Rescue American Healthcare in 2012.
In this excerpt you can see the insertion of ASP® needles at 4.26: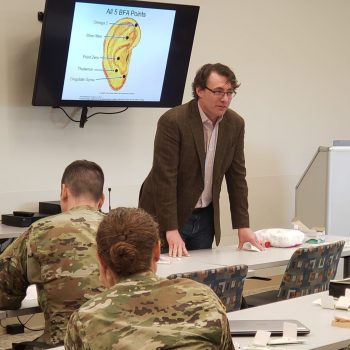 Dates:
18th and 19th of February 2022: Lyon – France
25th and 26th of February 2022: Copenhagen – Denmark with the support of Ny Energi and World Medicine
5th and 6th of March 2022: Bristol – UK with the support of the College of Auricular Acupuncture
29th and 30th of October 2022: Manchester – UK
4th and 5th March 2023 in Lyon – France
18th February and 11th March 2023 in Barcelona – Spain
Who can attend this training:
Therapists who attend this training should be allowed to use needles according to the laws in their country.
Day 1
Illusions of the Ear
The history of Auriculotherapy
Understand the history behind the BFA protocol
Learn how to do the BFA Protocol and how to use it
Effectively use ASP® needles and learn correct auricular insertion technique for BFA including: BFA point location
Recognize Side Effect and Results of BFA
Apply BFA in clinical practice successfully – know when to use the protocol

Day 2
Learn Advanced BFA – how and when to utilize it
Pairing of Needles
Clustering of Needles
Proper use of needles and correct auricular insertion
Incorporating Nogier's Phases
Clinical Pearls: Piezo Pen, PTSD protocol
Contraindications and Outcomes of ABFA
Apply ABFA and Auriculotherapy protocols into clinical practice successfully
John Howard is an acupuncturist. As a protégé of Dr. Niemtzow, he has been training Battlefield Acupuncture since 2007 in America and Europe.
To learn more about him and about BFA click here.


"What makes BFA different is that it is safe, easily teachable, and a highly effective treatment option" Dr Niemtzow