Sedatelec supports
the development of alternative medicine
Titre 2 sur sedatelec et
l'auriculomédecine
LEs gammes d'auricilomédecine
LEs gammes d'auricilomédecine
Sedatelec: the world standard in Auriculotherapy
Sedatelec, is a public limited companies (SAS) with a capital of 160 000 euros specialized in the design and distribution of medical equipment.
Located in FRANCE, near LYON, it employs 20 people and exports about 80% of its production, in more than 40 countries, in Europe and the rest of the world.
Founded in 1978, Sedatelec worked with Doctor Paul NOGIER, the father of Auriculotherapy and developed the first sterile semi-permanent ear needle, the ASP®.
It also created the first electronic devices and lasers for doctors carrying out this new medical technique.
As a result of the development and diffusion of Auriculotherapy then Auriculomedicine, the second technique developed by Dr Nogier, the activity of Sedatelec has developed and is continuing to extend throughout the world. Thereafter, it expanded its market to acupuncture and progressively to other forms of alternative medicine (Reflexology, Photonotherapy®, Etiomedicine, etc).
Dr Paul Nogier (1908-1996), a neurophysiologist fascinated by acupuncture, homeopathy and psychology, demonstrated in the beginings of the 1950s, that certain points on the external ear corresponded to organs or systems and that their distribution corresponded to the image of an inverted foetus. This representation, now recognized world-wide, is the basis for the practice of Auriculotherapy.
1978

Creation of Sedatelec and the first ASP®

1980

Jean Nogier becomes Chairman of Sedatelec

Launch of a new ASP with the current shape

1983

Manufacture of the first frequency-adapted and pulsed cold Lasers

1988

Launch of the 1st single-use sterile acupuncture needle in France, the DN

Creation of the company's quality department

1996

ISO 9003 certification

CE marking for its electronic products

1997

ISO 9002 / EN 46002 certification

CE0123 marking for all sterile medical needles

1999

FDA approval for ASP® needles

2002

François Dumont becomes Sedatelec CEO

2005

ISO 13485:2003 certification

2009

Sedatelec innovates yet again with the Modulo, the first range of modular multi-function devices, offering in particular a 40W super pulsed laser emission Module, and the Premio 10 moxa, a particularly effective electronic "moxa-like" device.

2012

Thierry GARABOUX becomes Sedatelec CEO. He is still dedicated to supporting and contributing to the development of auriculotherapy and alternative medicine, while respecting the corporate culture inspired by Dr Paul NOGIER.

2013

Appearance of a new innovation: "Frequency wobbling" with the Premio 30, then with the Premio 20DT, in 2017, replacing the Agiscop.

2017

MDSAP (USA & Canada) certification

ISO 13485:2016 certification

2019

MDSAP certification (Australia)

Sedatelec revolutionises luminous stimulation with the first High-CRI diode device, the Premio 40 Light.
Forever seeking to remain at the cutting edge of technology in order to adapt to new approaches, Sedatelec still has some wonderful surprises in store for us.
Discover Sedatelec's 40-year history
in the booklet below.
The manufacturing process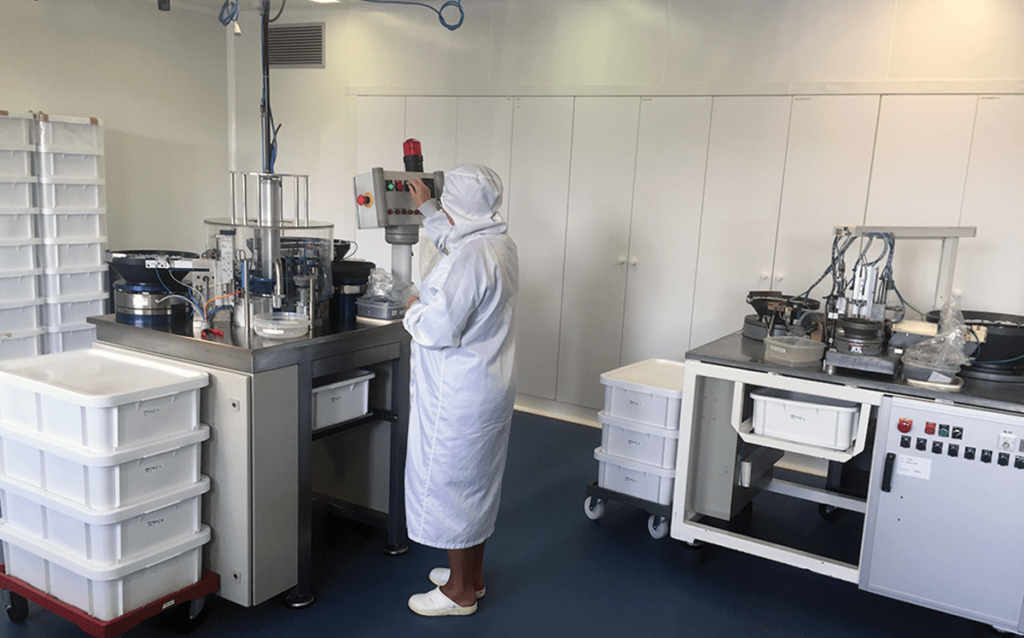 At the heart of Sedatelec are the ASP® needle manufacturing clean rooms.
Equipped with modern machines for producing the parts with a hundredth of a millimetre precision, the automated process minimises unnecessary handling. The environmental control conditions required by the standards ensure optimal needle hygiene quality before they are sterilised using gamma radiation. All of the needles are also subject to a final check, conducted 100% by optical camera, before being packaged.
2

The electronic manufacturing workshop
From R&D to manufacturing, including design and development, everything is Made in France. Production is computer-managed to ensure perfect traceability of all items. Each item is manually assembled by experienced professionals, and each step is continuously and rigorously checked. Latest-generation electronic equipment is used to test each device before it is shipped, thus ensuring optimal quality.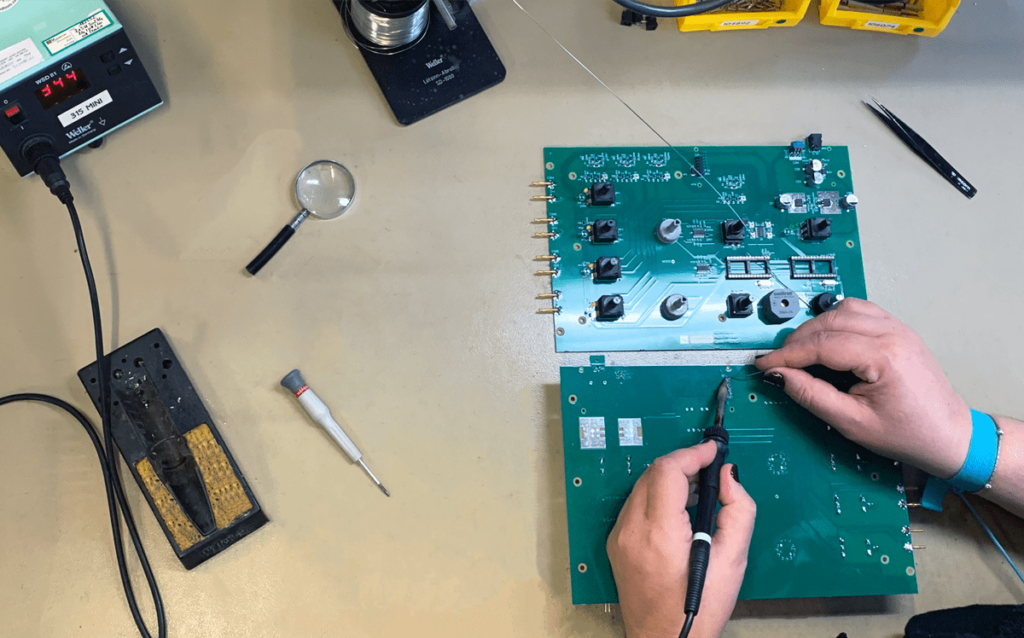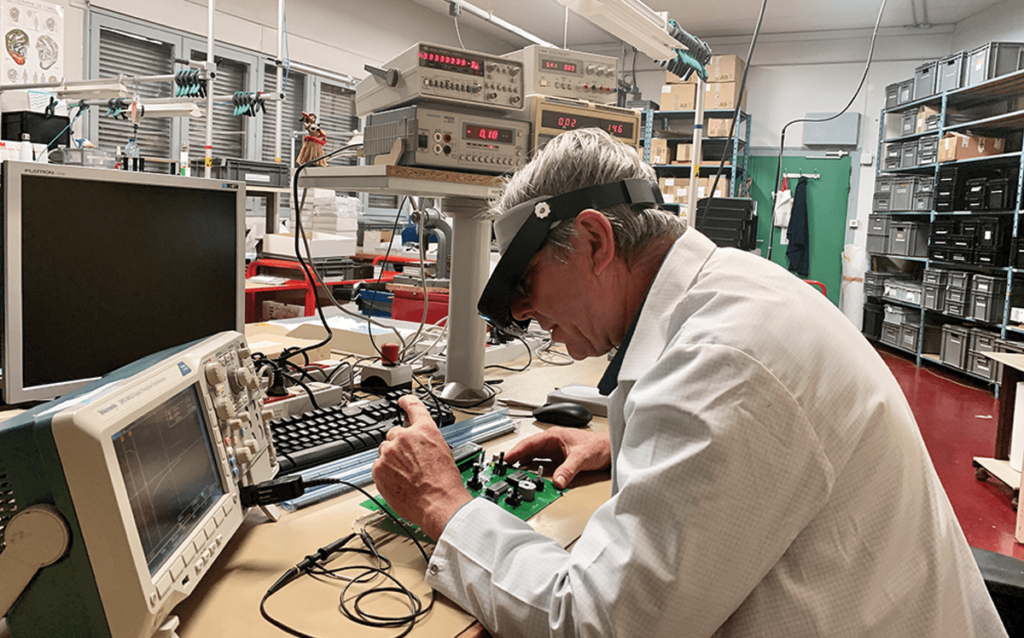 Sedatelec guarantees its devices for 2 years, including parts and labour, against any manufacturing defect, with the exception of wear parts (cables, probes, batteries) and for use that complies with the user guide. Small instruments are guaranteed for 1 year. After-Sales Service is provided on site in Lyon, up to 10 years following withdrawal from market. Each repaired device is subject to the same inspections as a new one.