Thanks to VAS, Paul Nogier discovered that certain zones in the ear speculum and body react in an identical way to a range of 7 specific frequencies.
Titre 2 sur sedatelec et
l'auriculomédecine
LEs gammes d'auricilomédecine
LEs gammes d'auricilomédecine
7 specific frequencies
for maximum efficiency
In the 1970s, Paul Nogier found the physiological correspondence of a range of frequencies with various parts of the skin using the RAC. By stimulating the skin using light emitted by a diode and hertz by hertz adjustments, he discovered that some areas of the pinna of the ear and body react identically to specific frequencies: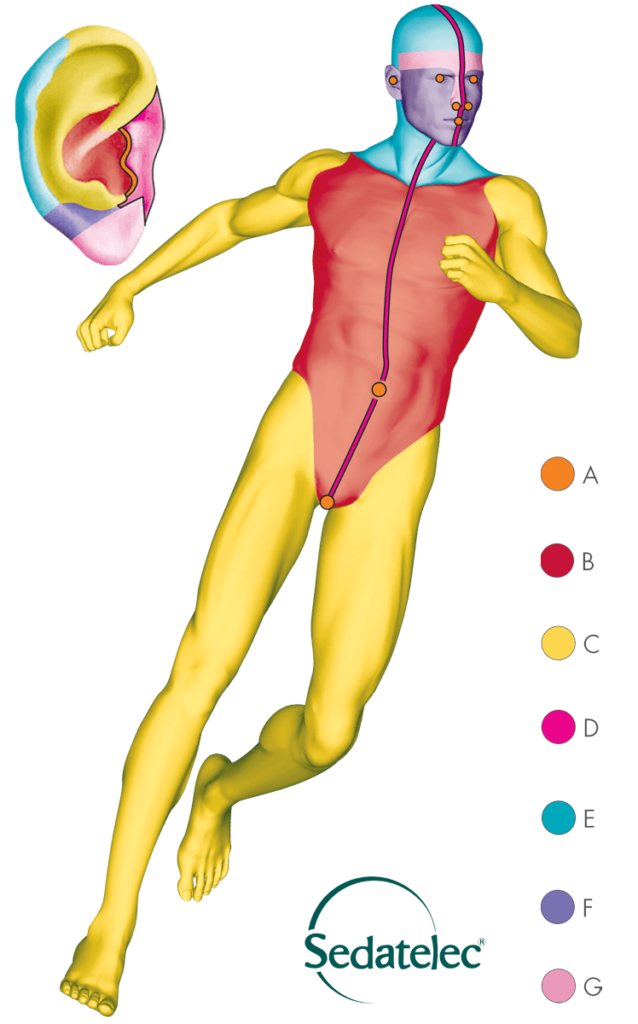 A = 2,28 Hz, basal area, represents anabolism
Stimulation of cell work
Anti-inflammatory action
Anti-oedema action
B = 4,56 Hz, nutrition and assimilation area (metabolism)
Stimulation:

Of nutrient functions
Of inter-cellular exchanges
Of cellular cohesion
Of immune effects

Anti-allergic action
C = 9,12 Hz, kinetic area, represents movement
Stimulation of functions:

Locomotion
Muscle contraction
Those related to agonism and antagonism
Those related to Dopamine secretion
D = 18,25 Hz, associative area represents the link between the right and left sides of the body
Stimulation of inter-hemispheric fibres causing stimulation of functions relating to symmetry and laterality.
Action: motor activity, walking, posture
Action: language, mood, concentration, memory, location in space/time.
E = 36,50 Hz, distribution area represents transmission of influx between cortex and soma
Stimulation of spinal cord
Analgesic action
F = 73 Hz, sub-cortical area represents instinctive organisation
Stimulation of central grey nuclei
Healing, antidepressant action
Regulation of the hypothalamus and appetite
G = 146 Hz, cortical area, represents mental organisation
Stimulation of the cerebral cortex
Treatment of psychosomatic disorders
Treatment of chronic pain
Adjuvant treatment of epilepsy