×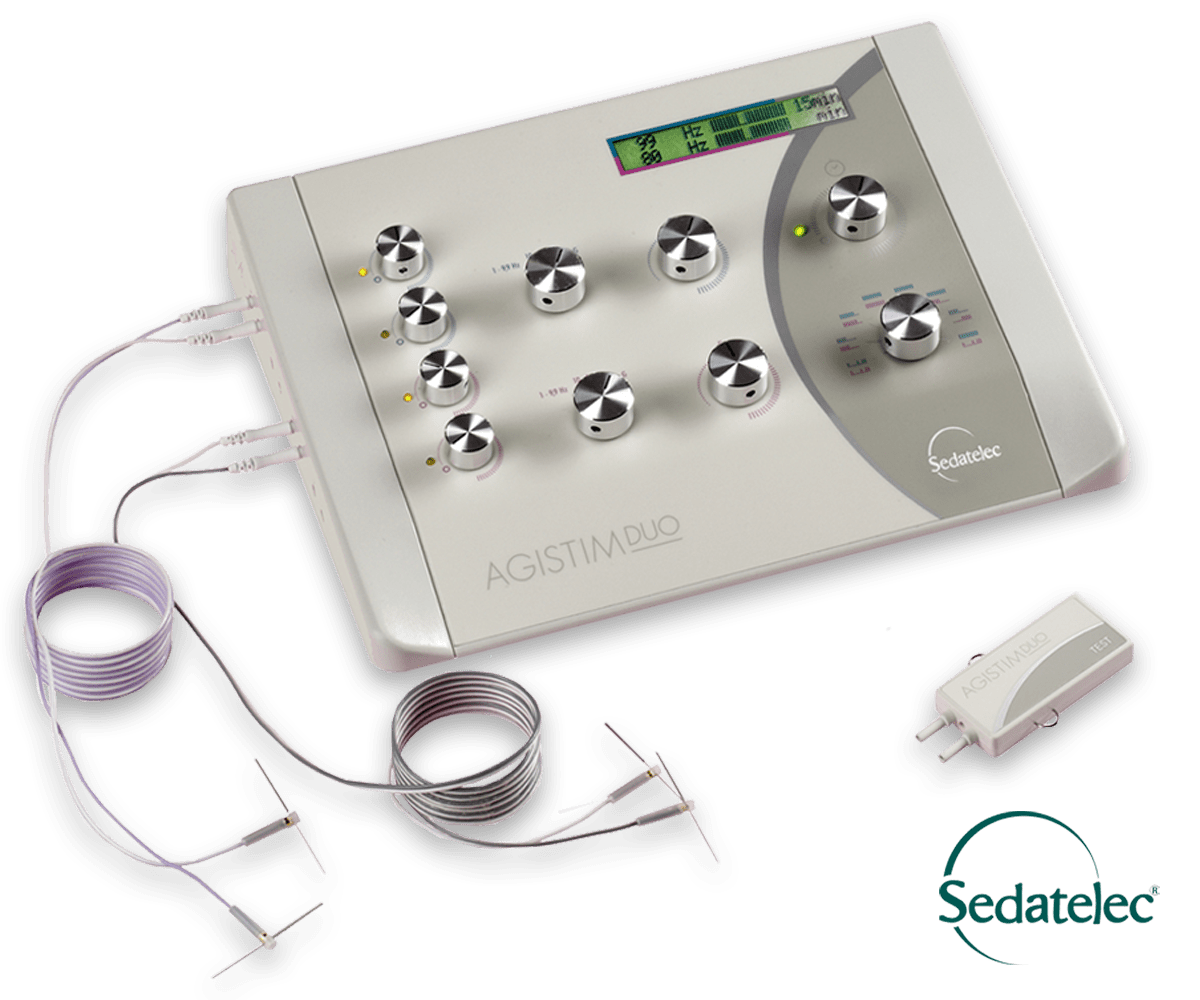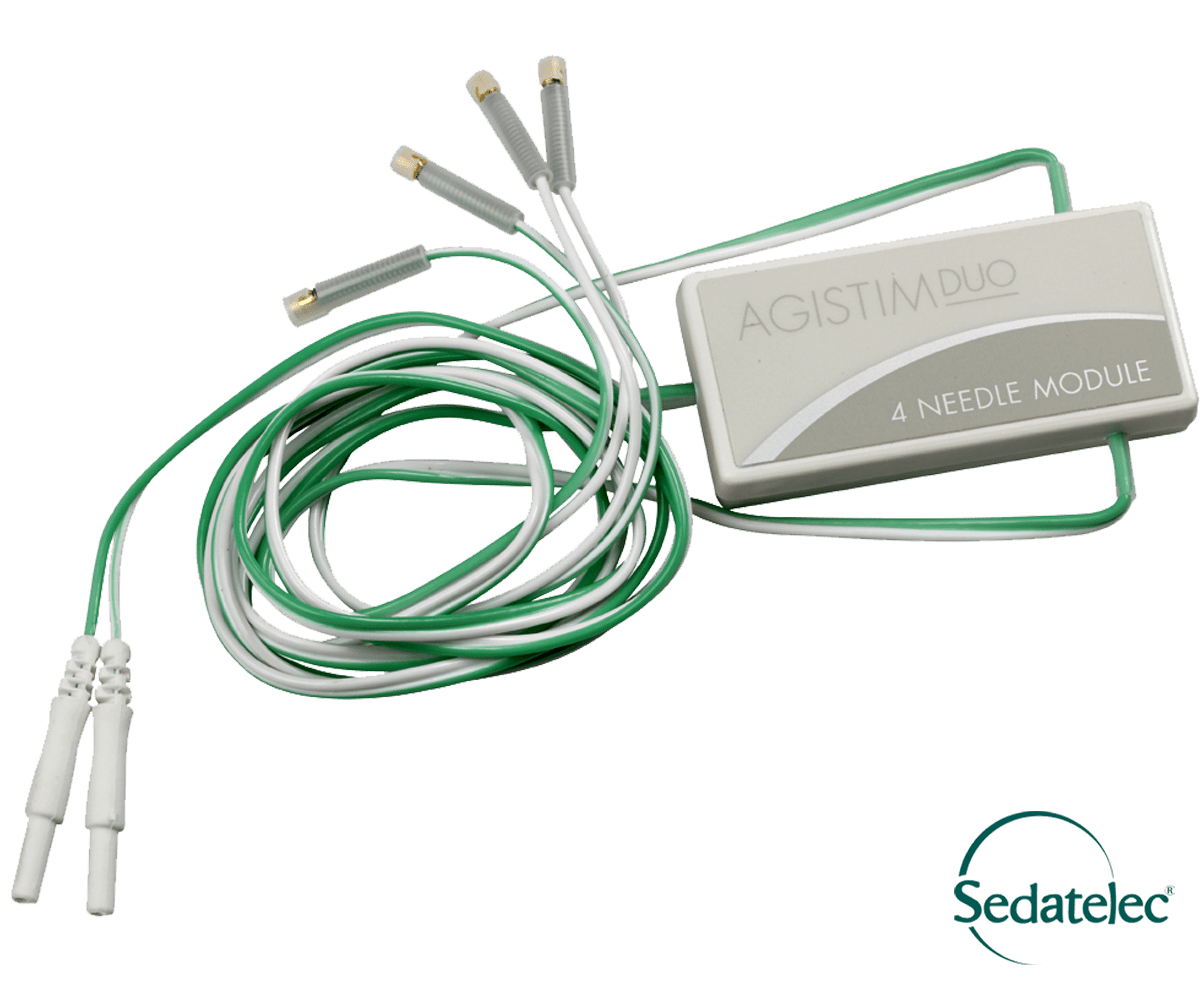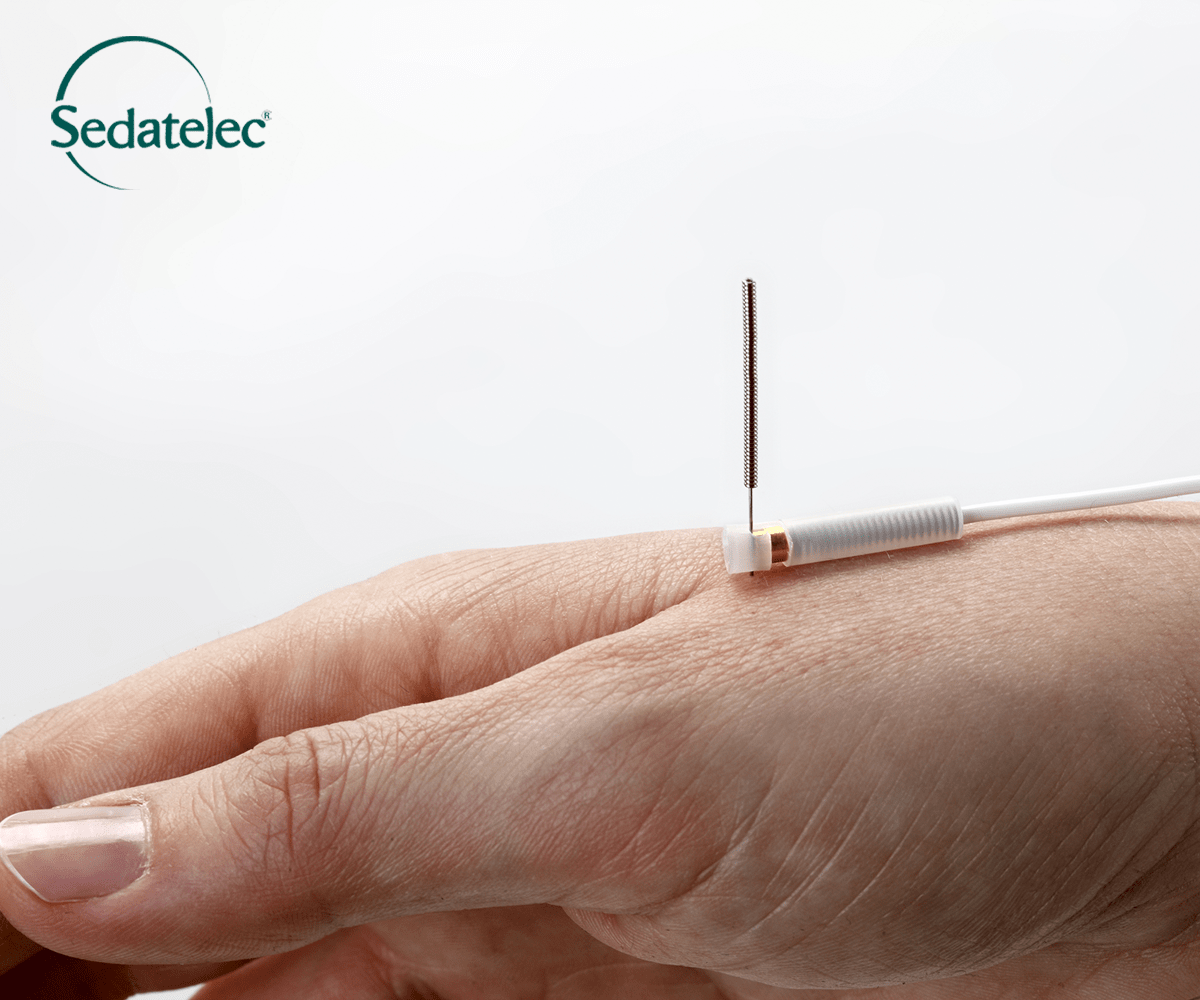 AGISTIM DUO
108268
Electro-stimulator which enables you to connect up to 8 electrodes or up to 16 needles (with the use of 4 needle modules).
HOMOLOGATIONS
CE, Health Canada
INNOVATION / OUR +
Connectors providing perfect constant contact with the needles, at the same time guaranteeing complete insulation from the skin.

POWER SUPPLY
110/220 V multi-voltage EU connector.
Medical device class IIa.
PRESENTATION
RELIABILITY AND PERFORMANCE
Stimulation with or without rest time, scanning function, frequencies from 1 to 99 Hz and programmed Nogier frequencies**.
Intensity adjustment on each of the channels with independent integrated safety system.
4-channel stimulator for electro-acupuncture that can stimulate up to 16 needles.
The AGISTIM DUO is your ideal response for use in electroacupuncture to speed up the work of the needles in electrolipolysis in order to reduce localised lipodystrophy, in neurostimulation to stimulate nerve fibres with electrodes and in analgesia to release endorphins depending on the frequencies selected.
RELIABILITY OF USE
Connectors providing perfect constant contact with the needles, at the same time guaranteeing complete insulation from the skin
Equipped with 4 independent channel outlets (2 x 2) with intensity adjustment for each channel
Operates on a safety protected circuit which fits all power supplies
HIGH QUALITY STIMULATION
8 different emission/stimulation modes
Continuous stimulation with variable rest times
Frequency scanning function
Complete stability of current intensity, regardless of impedance of the point
Statistically controlled frequency oscillation avoiding the body becoming accustomed to stimulation
EASE OF USE
Different frequencies and emission modes can be selected on the 2 groups of 2 channels.
Impulse amplitude: set independently on each channel between 0 and 12 mA, with a duration of 0.5 ms
Frequencies between 1 and 99 Hz in steps of 0,1 Hz or 1 Hz
Adjustable stimulation times of 1 to 60 min
Direct choice of the 7 Nogier frequencies**
Permanently visible stimulation parameters
OPTIMAL SAFETY
Independent built-in safety system stops the instrument if the current frequency or intensity exceeds maximum limits
In the event of error or if forgotten, the device clearly describes the problem ensuring that it always operates correctly
Designed around 2 completely independent insulated current generators
AGISTIM DUO
OPTIONS
Styl module (107760 AGIDUO-09)
This device allows very accurate electrical stimulation to be delivered to a point without applying needles or electrodes.
It is particularly useful on the ear points.
It can work with the Nogier frequencies** and all frequencies between 1 and 99 Hz.
The device connects directly to the AGISTIM DUO output sockets.
This can double the number of needles connected to the AGISTIM DUO.
It has a very simple attachment system: the needle is hooked on with one hand by pulling on the wire.
Available in 4 different cable colours : grey (109315 AGIDUO-031), pink (109316 AGIDUO-032), green (109317 AGIDUO-033), purple (109318 AGIDUO-034).
Kit lipolyse (108843 – AGIDUO-03)

A set of 4 x 4 Needle modules used to perform acupuncture or electrolipolysis enabling you to connect up to 16 needles.
Supplied with user manual and 4 cable colours to identify the needles during stimulation.
Before use, carefully read the user manual.
Order