×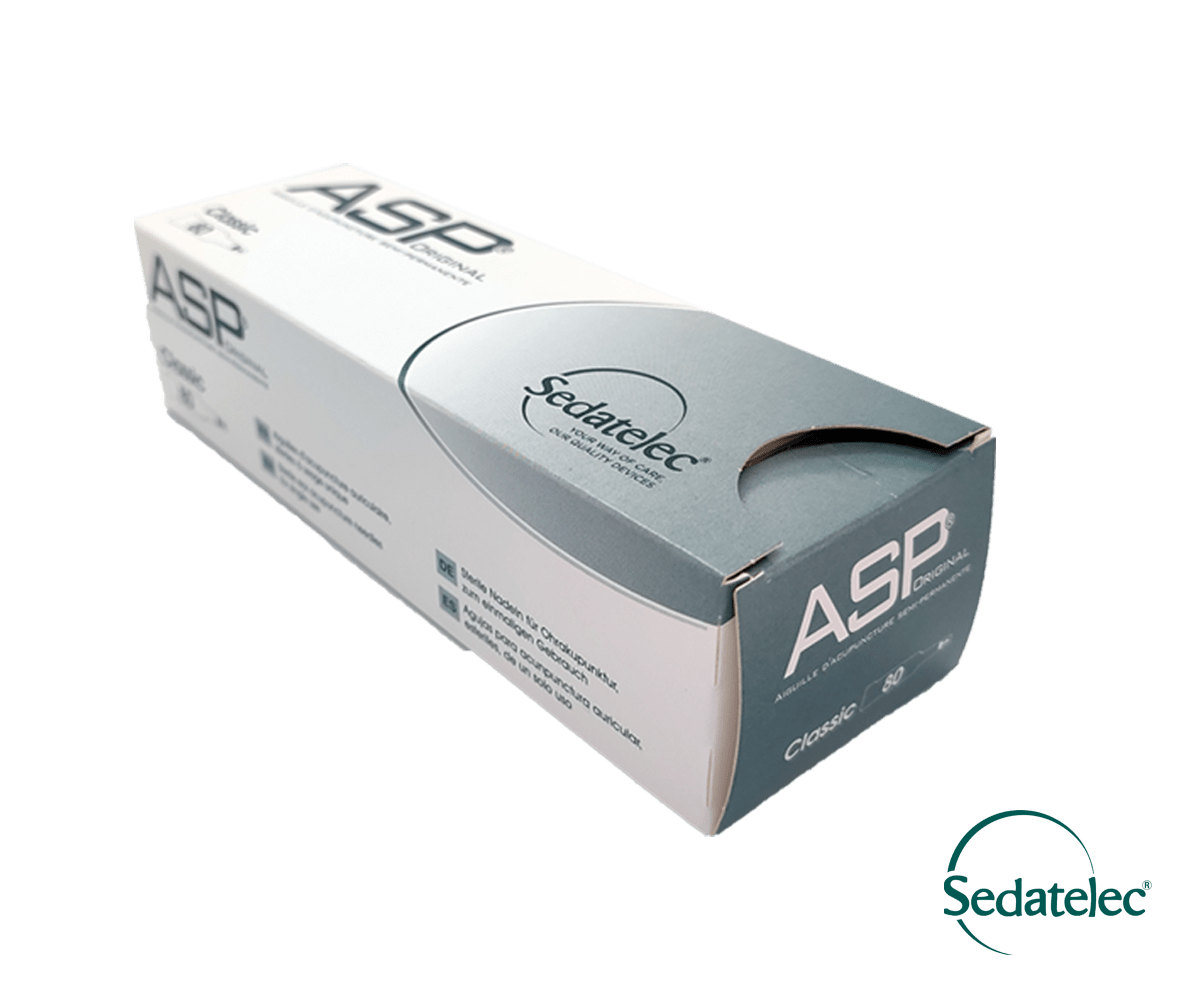 ASP® Classic
Medical grade stainless steel disposable sterile semi-permanent needle, with stimulation magnet.
HOMOLOGATION
CE 0123, FDA, Health Canada, Australia
INNOVATION / OUR +
The Sedatelec "click" is the guarantee of impeccable quality.
PACKAGING
Blister packed individually and packaged in sets of 8, 80 or 200 needles.
STERILISATION
Sterilised by Gamma radiation (5 year shelf life).
Medical device IIa class.
PRESENTATION
The reference needle in auriculotherapy!
Designed at the start of auriculotherapy more than 40 years ago, the product has improved year after year while remaining faithful to the criteria defined by Dr. Paul Nogier.
The indisputable advantages of the ASP® Original:
Rapid, accurate application with no risk of infection.
Original shape allowing prolonged stimulation of the auricular point (for up to a few days).
Hypoallergenic self-adhesive plasters supplied in each box to protect the needle.
The Sedatelec «click» demonstrates the irreproachable quality of the injector, the result of more than 40 years of experience.
The bipolar magnet placed in the applicator can stimulate the point after inserting a needle.
Manufacture by Sedatelec in France in clean rooms, perfect quality and excellent behaviour of materials over time.
Product references :
110636 ASPA8 – ASP Original CLASSIC 8
110624 ASPA80 – ASP Original CLASSIC 80
110614 ASPA200 – ASP Original CLASSIC 200
The adhesive plasters supplied with the ASP® are manufactured with a microporous support and a hypoallergenic adhesive film.
They are used as required to hold the needle in place and to protect the head of the needle.
Available in bags of 600 plasters, reference : 103621 – ASPLAST600.
Before use, carefully read the user manual.
Order
BROCHURE
DOWNLOAD