Training done in English and translated into Portuguese.
Dates: from November 28th to December 1st  2023
Language: English translated into Portuguese
Cost:
Early bird until August 30th: 750€
From September 1st : 950€

Payment by bank transfer.
Location: Setúbal, Portugal
Objectives: 
To use Auriculotherapy for hormonal balance
To identify mobile and fixed points, master and omega points
To use special points related directly to the disorders we will be working with
To open the body and liberate energy in areas that have been suppressed because of physical or emotional traumas
Furthermore, there will be some case presentations and time to practice and test all the techniques that you will learn. 
In this 4 day-course Rikke Godthjaelp and Dr. Stéphane Maugendre will teach you how to take the Nogier pulse (RAC/VAS), how to detect auricular points, as well as how to stimulate them using the ASP® needles, colors, frequencies…
Learn more about the teachers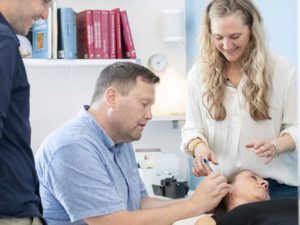 – has run her own clinic in the center of Copenhagen since 2003 and taught Auriculotherapy, Advanced Auriculotherapy, Posturology and Chromotherapy at several schools in Denmark, as well as at the GODTHJÆLP Institute since 2010. Teaching internationally since 2021.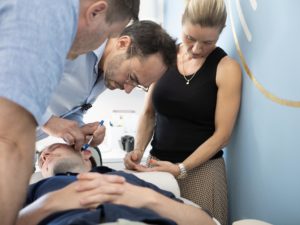 – has worked with Auriculotherapy and Auriculomedicine since 2013 and taught since 2017. Treats as a specialist doctor in Auriculotherapy and Auriculomedicine in the department for chronic pain in Paris at the Rothschild Foundation pain center. Runs his own medical practice in Normandy since 2005